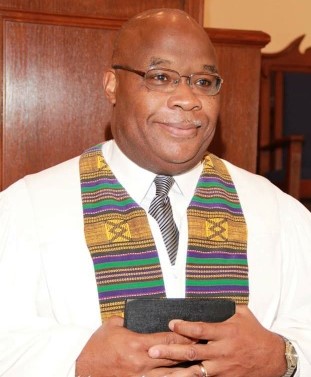 Pastor Stanley M. Jacobs, Sr.
James 1:2-4 (NLT)
"2Dear brothers and sister, when troubles of any kind come your way, consider it an opportunity for great joy.
3For you know that when your faith is tested, your endurance has a chance to grow.
4So let it grow, for when your endurance is fully developed, you will be perfect and complete, needing nothing."
Greetings in the name of our Lord and Savior Jesus Christ. I pray that as you read this, you are well and in good spirit. God is watching over us as we journey through these last and evil days. I want to encourage you to continue praying and trusting in the One who can keep us from falling and present us faultless before His presence with exceeding joy. God has chosen us for such a time as this.
The ministry continues to go well as we try to keep up with a 952 active membership. Our church is also blessed to minister to people across the United States and other countries through social media and online streaming. I met a man in the grocery store who recognized me from our livestream service. He and his mother had recently relocated her from New York and have been watching our service for about two months. He stated that another person who had relocated to Florida referred him to our website.
Our financial support in Kitale, Kenya has been discontinued because the ministry there has become better able to meet the needs of the children. As a result, we have redirected additional funds to meet the needs of homeless families in our community. I desire to return to foreign missions and visit the school for disabled children in Karatina, Kenya. I believe that we could be a blessing to the effort there. Many thanks to all of your for your faithfulness.
Blessings and Be Safe,
Pastor Stanley M. Jacobs, Sr.
Rev. Stanley M. Jacobs, Sr.
Church: (352) 622-7877

Fax: (352) 622-7548
Email: smaxj0510@aol.com

Personal

Married to Virginia
Father of two sons and two daughters
Grandfather of five grandsons and five granddaughters

Education
High School Diploma, Vanguard High School, Ocala, FL
Bachelor of Science, Livingston University, Livingston, AL
Master of Arts in Teaching, Livingston University, Livingston, AL

Certification in Educational Leadership, Stetson University, Deland, FL
School Principal Certification

Trinity Seminary and Bible College, Newburgh, IN, (Theological Coursework)
Billy Graham School of Evangelism, Asheville, NC
Certificate of Completion, American Association of Christian Counselors

Employment
1997-1999 Asst Superintendent, Marion County Public Schools, Ocala, FL

1996-1997 District Director, Marion County Public Schools, Ocala, FL

1995-1996 Director of Personnel, Marion County Public Schools, Ocala, FL

1993-1995 Principal, The Phoenix Center Middle/High School, Ocala,

1991-1993 Assistant Principal, Belleview-Santos Elementary School, Ocala, FL

1986-1991 Assistant Principal, North Marion Middle School, Ocala, FL

1984-1986 Teacher, North Marion Middle School, Ocala, FL

1982-1984 Teacher, Dunnellon Middle School, Ocala, FL

1981-1982 Teacher and Football Coach, Livingston High School, Livingston, AL

Church Experience
2005-2015 Instructor, United Theological Seminary and Bible College, Florida Center

2003-2013 Bible Expositor, Second Bethlehem Baptist Association, Ocala, FL
1999-Pres Pastor, New Covenant Missionary Baptist Church, Ocala, FL
1997-1999 Pastor, New Jerusalem Missionary Baptist Church, Ocala, FL

1995-1997 Associate Pastor, New St. John Missionary Baptist Church, Ocala, FL

1994-1999 President, United Congress of Christian Education, Ocala, FL

1983-1995 Pastor, Canaan Missionary Baptist Church, Flemington, FL

Awards and Community Work
Big Brothers Big Sisters Board of Directors

Arnette House Board of Directors

Take Stock In Children Board of Directors

Church Without Walls

Marion Juvenile Detention Center Advisory Board

Marion County Sheriff's Citizen Advisory Board

Marion County Sheriff Department Volunteer Chaplain

E.D.C. Technical Education Committee

United Way of Marion County Loaned Executive Program

Exemplary Service Award - Marion County Branch NAACP

Outstanding Young Men of America
Who's Who Among Students in American Colleges and Universities
NAACP Lifetime Membership Award
Frank G. Pinkston Humanitarian Award